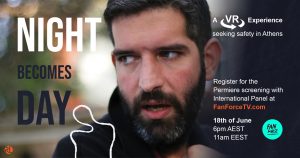 Join the on-line world-premiere of our short film 'Night Becomes Day',18th June, 6PM Australian Eastern Standard Time. This event leads Refugee Week around the world.
Please join in the panel discussion after the screening – featuring international human rights professionals and the film's VR director Daniel Bury.
Book here to join in this live streaming event. 
View with any screen the 2D regular video, or with VR glasses and headsets for the 3D immersive version.
Night Becomes Day is the first virtual reality documentary which explores forcible displacement, immersing you in a real refugee journey from camp to community.
Through humane professional support, teenage boy Sohail's displacement and resettlement from an Athen's refugee camp makes a stunning human challenge to Australian and US refugee management.
A School Resource associated with the film, is specifically designed for students to participate in Refugee Week.
We stand against racism.
We stand for inclusive society.